Thank you so much for visiting our site! We take pride in offering the most lively, enjoyable, and affordable solo/duo/trio entertainment for your pub, restaurant, private or corporate event.
We are known for playing a fun mix of Irish classics, oldies, and pub favorites. Our goal is the same as yours..to help you build a profitable night while making sure every guest has the BEST time possible!
Looking forward to seeing you soon..For A Shotta Life!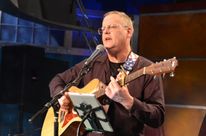 'For A Shotta Life!' is the mantra of The Hooley Shooters (pronounced, "Who-Lee") as they deliver a memorable high energy mix of Irish classics and/or American pub favorites, and originals to every show. Whether Tommy as a solo, or as a duo or trio with Axel Belohoubek, Barry Wiesenfeld, or any number of his other talented musician friends, a Hooley Shooters party is one to be remembered. For non-Irish venues/events Tommy's duo is known as The Tommy Gardner Duo.
 Singer-songwriter-entertainer Tommy Gardner brings his energy and humor to pubs, restaurants, and private parties performing a lively mix of favorites such as; Simon and Garfunkel, Jimmy Buffett, Cat Stevens, Eagles, Beatles, Johnny Cash, Proclaimers, Van Morrison, James Taylor, Zac Brown, 50's-80's  classics and more!
 "Tom and Axel were fantastic!!! Tom sang my favorite, Galway Girl, perfectly! Would definitely recommend and use them again.!" Tracy M, Cranford, NJ