Thank you so much for visiting our site! We take pride in offering the most lively, enjoyable, and affordable solo/duo/trio entertainment for your pub, restaurant, private or corporate event.
We are known for playing a fun mix of Irish classics, oldies, and pub favorites. Our goal is the same as yours..to help you build a profitable night while making sure every guest has the BEST time possible!
Looking forward to seeing you soon..For A Shotta Life!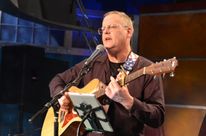 Message to pub owners,
We are very excited that you are considering bringing us in to entertain your guests. We take that responsibility very seriously and we do our part by promoting our appearances by the following:
Social network posts, Facebook, Twitter, etc.
Facebook event page marketing
Events posted on local Meetup.com social groups
Collecting emails during our appearance and promoting future shows
providing you with custom flyers and/or posters
We love to engage the audience and make them feel as though they are experiencing a special evening. Anyone can have just music playing, but we want this to be a unique and awesome experience every time. We will be your ambassador while we are there and talk about your upcoming events, specials, etc.

We have designed our group (solo, duo, or trio) to be affordable for any budget, but because we are not a full band you shouldn't need to charge a cover charge. Our duo, for example, would cost you what you pay some solo performers. We've kept our rate low to show you what we can do and help you build future profitable nights with us. As the crowd grows we can discuss adjusted rates down the road.
Now, your part. We have performed at literally hundreds of pubs and we have noticed a definite pattern with those that market successfully. Believe it or not, we still find some that don't even mention entertainment on their website or Facebook. We've even mailed posters for our appearances and found that they never found their way on the walls. 
We are just the reporters here. We didn't make any of this up, but we found that this checklist is GOLD and I thought I would share it with you. As I said, we want to work with you so you can make more money. The MOST successful pubs/restaurants do the following on a consistent basis:
8 Simple, easy, and inexpensive GUARANTEED TO WORK pub marketing MUST DO's:
Update their websites and have easy to navigate links to entertainment calendar on the home page, with links to the artists website so guests can decide if they want to come in.
Use Facebook on a daily basis with menu specials, entertainment, and photos/videos from past nights.
Use Twitter the same way, but daily and often and link to their website, FB, etc.
Advertise their entertainment within their current advertising platforms; ads, online ads, coupon mailers, etc.
Entertainment flyers/posters in several location, but definitely in the restrooms.
Entertainment schedule on table tents (I know this is some work but guests ALWAYS read table tents!)
Build an email customer list via free dinners, apps, etc., and send WEEKLY emails with specials and, of course, the entertainment schedule
A lighted outside sign advertising the entertainment for drive by traffic (this is HUGE!)
Last note:
Besides St. Patrick's season Irish music is sporadic at best in the tri-state area. Although we perform much more than just Irish music, we have found that pubs that promote an Irish night on a consistent basis either once a week or month, can build a steady and loyal audience who will SPEND MONEY (and travel to get to you).
We understand that Fridays and Saturdays are usually better served with rock bands, Karaoke, etc. for the younger crowd, but an Irish Music Sunday, maybe 4-8pm is an amazing idea used by many pubs already. You catch the dinner crowd and encourage families to come in. Irish music fans will travel because they will be home early and they know Irish music is scarce at best. Just a thought.
Again, thanks for considering us and we hope to work with you to build successful night at your pub or restaurant.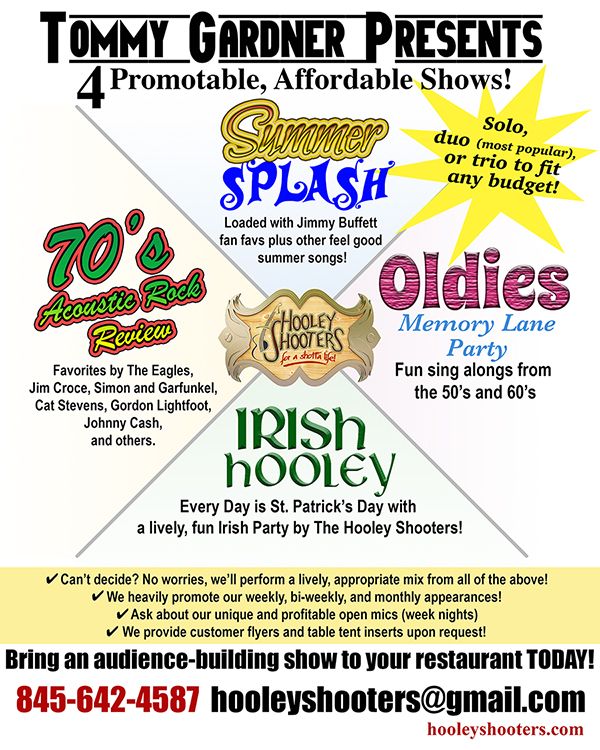 Download this flyer here: