Thank you so much for visiting our site! We take pride in offering the most lively, enjoyable, and affordable solo/duo/trio entertainment for your pub, restaurant, private or corporate event.
We are known for playing a fun mix of Irish classics, oldies, and pub favorites. Our goal is the same as yours..to help you build a profitable night while making sure every guest has the BEST time possible!
Looking forward to seeing you soon..For A Shotta Life!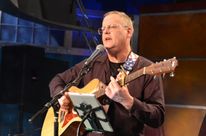 We appreciate all the kind things people are saying about us!
"The Hooley Shooters were absolutely awesome!!! Very professional, they showed up early and we're ready to go. Made the night very special. My guests loved them!!! Tom was great with the kids, and everyone had a fantastic time. And the song choice and singing ability were top notch. I would not hesitate to recommend these fellows to anyone, and if I need a band in the future, I'm calling these guys! Thanks Tom and Axel for a memorable night!"
-Chris F, East Brunswick, NJ
 "Hooley Shooters did a fantastic job entertaining our residents at Elements at West Windsor. Homeowners were thoroughly pleased with their music selection and interaction with the audience. They've already requested them back for 2016!"- Melissa V
 "Hooley Shooters Rocked my Livingroom!" No better band out there to turn a get together into a awesome party! St. Patrick's Day party they jammed! All the great Irish music...a few sing-alongs....perfect. I highly recommend them!- Tim Davis, Morristown, NJ (St. Pats Party, 2015)
"Tom and Axel were fantastic!!! Tom sang my favorite, Galway Girl, perfectly! Would definitely recommend and use them again.!" Tracy M, Cranford, NJ
 "A keen sense of fun and musical wit unravel in Tom Gardner's wonderful musical stories and tales.   From songs to laughter to toe tapping fun, the audience left with a spring in their step and a smile on their face."
Devon Cameron, Director, Promenade Senior Living, Middletown, NY
From the Greenwood Lake Library performance, March, 2015, as per Kelly Corrado, Adult Services:
"Wonderful! Please bring them back!"
"Reminded us of the Kingston Trio! Very uplifting, come again!"
"Great! Loved "Danny Boy""
"very enjoyable, beautiful songs, lot's of fun!"